The Philadelphia Mint struck Proof Seated Liberty Dollars (Buy on eBay) for each year of the series. Early dates were generally produced in much smaller numbers, with the exact mintages unknown. Offerings of these early dates are scattered, with only a few surviving pieces for certain issues. Later date proofs have reported mintages from the low hundreds to around one thousand pieces.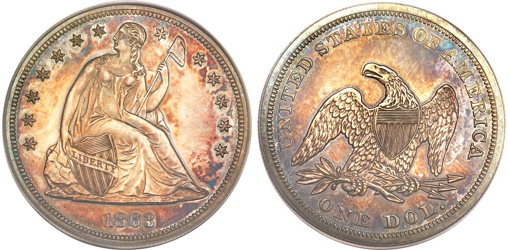 Several proof issues of the series command special attention. For 1851 and 1852, most of the proofs encountered will be restrikes made at later dates. The low mintages for the circulation strikes attracted collector demand, prompting mint employees to strike small groups of proof silver dollars for years after the original issue. In 1858, the silver dollar was not produced for circulation, but only struck in proof format with a mintage of 300 pieces.
The 1866 Proof Seated Liberty Dollar without the motto "IN GOD WE TRUST" on the reverse is an intriguing rarity of the series with only two examples known to exist. At one time, the issue was believed to be a transitional variety created before the motto was added to the reverse design. It is now believed that the coins were struck as fantasy pieces created at the request of an influential collector. One of the known pieces is held by the Smithsonian Institution. The one piece remaining available to collectors has sold for prices in excess of $1 million.
Proof Seated Liberty Dollar Mintages
Issue
Mintage
1858
300
1859
800
1860
1,330
1861
1,000
1862
550
1863
460
1864
470
1865
500
with Motto "IN GOD WE TRUST"
1866
725
1867
625
1868
600
1869
600
1870
1,000
1871
960
1872
950
1873
600