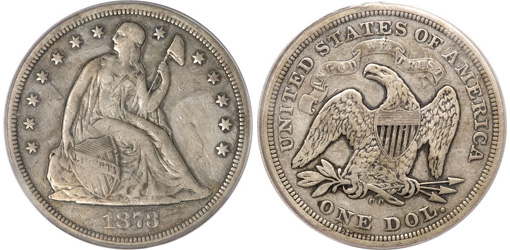 Of the four Carson City Seated Liberty Dollars (1870, 1871, 1872 and 1873), the 1873-CC is the rarest of the group. The original mintage of the coin was just 2,300 pieces. Although this is not the lowest mintage of the Carson City issues, the coin has the lowest number of survivors.
The reason for the rarity is presumed to be the enactment of the Coinage Act of 1873, which ended the production of silver dollars. It is believed that only perhaps 750 to 1,000 examples of the 1873-CC Seated Liberty Dollar made it out of the Mint and the rest were melted.
About half a dozen uncirculated examples exist, with perhaps no more than 80-100 examples surviving across all grades. Most of these are in the EF to AU range, an indication of short circulation, as is the case with most of the circulated Liberty Seated Dollars that survive to this day.
One of the uncirculated 1873-CC Silver Dollars graded MS 61 by NGC sold for $82,225 at an auction held in 2006.